Entry for August 8th, 2021
Church
This morning I went to a place called Faith Church in Lansing. The church is based upon the Wesleyan Holiness tradition which is something I'm very familiar with because of Eaton Rapids Campmeeting. I was hoping that the message would satisfy my spiritual hunger.
Blessed are those who hunger and thirst for righteousness, for they will be filled.

Matthew 5:6 (NIV)
(Thanks to my mom for offering to go there with me after I mentioned I was planning on going there on Sunday morning. It was nice having her with me.)
The message was pretty good, dealing with the necessity of baptism as a public profession of faith. This was interesting to me -- growing up in the Lutheran church, I went through Confirmation as a public profession of faith, and was baptized as a young child. This is one of those times where the different variations of traditions between denominations pop up.

However, the worship was very difficult for me. The music was the more modern stuff, which I don't mind, however the volume was very loud and I couldn't even hear my voice, having to strain to tell if there was even sound coming out my mouth. It was difficult and hurt, and felt unfulfilling. It didn't feel like it fulfilled any purpose of preparing me to receive the message, either.
I personally prefer older hymns/songs - this kind of song suits the vocal range that I have and honestly feels like a much more fulfilling way to lift my voice before God.
Anyway, the sermon was pretty decent. I was intrigued by the promise of the upcoming sermons to explore deeper and lesser-studied topics/stories. After having to deal with sermonettes for a long time, this was a very exciting thing to hear!
On one hand, I may suck it up and deal with the overpowering praise band for this reason alone. On the other hand, is it really healthy for me spiritually to not be able to fulfill my desire to bring a joyful song before the Lord? Honestly, I have no clue what to do, except continue to seek a church home.
The sermon notes that I took are below:
Sermon notes
Faith Church, Lansing, August 8, 2021
"About That…"
Pastor Kirk Proctor
What is baptism?
Baptism is not necessary for salvation. Is it important? Yes, 100%. It's the first step of obedience after accepting Christ. However, we are saved by faith alone.
Baptism is an external celebration of an internal transformation.
What shall we say then? Are we to continue in sin that grace may abound? By no means! How can we who died to sin still live in it? Do you not know that all of us who have been baptized into Christ Jesus were baptized into his death? We were buried therefore with him by baptism into death, in order that, just as Christ was raised from the dead by the glory of the Father, we too might walk in newness of life.
Romans 6:1‭-‬4 ESV
Because God is perfect, the standard to get into heaven is to be perfect. But how then can we get into heaven?
"Double Transfer":
We transfer our sins to Jesus
He transfers his righteousness and right-standing before God to us
What if we were baptized as an infant, before we were Christ-followers? That action was our parents dedicating themselves to raising us in Christ.
Baptism is also an illustration of the gospel of Jesus!
Because of Christ, sin no longer has mastery over us!
Why do I need to be baptized?
1. To follow the example of Christ
But Jesus answered him, "Let it be so now, for thus it is fitting for us to fulfill all righteousness." Then he consented.
Matthew 3:15 ESV
It's significant to make this public profession.
2. Because Jesus has commanded it
Let all the house of Israel therefore know for certain that God has made him both Lord and Christ, this Jesus whom you crucified." Now when they heard this they were cut to the heart, and said to Peter and the rest of the apostles, "Brothers, what shall we do?" And Peter said to them, "Repent and be baptized every one of you in the name of Jesus Christ for the forgiveness of your sins, and you will receive the gift of the Holy Spirit.
Acts 2:36‭-‬38 ESV
Go therefore and make disciples of all nations, baptizing them inthe name of the Father and of the Son and of the Holy Spirit, teaching them to observe all that I have commanded you. And behold, I am with you always, to the end of the age."
Matthew 28:19‭-‬20 ESV
There is a LIE that Satan tells, that our sin disqualifies us from being baptized
3. To publicly identify with Christ
To identify with somebody is to work out how we are unified with another (story: the different gifts from children to father based on the basis of their relationships with each other)
Acts 2:38 emphasis:
> [...] in the name of Jesus Christ [...]
Your identity is now Christ-follower and no longer lies in or is derived from the world
Baptism is illustrating this for us: identification with Christ.
Examples in Acts:
Acts 8:15-16
who came down and prayed for them that they might receive the Holy Spirit, 16 for he had not yet fallen on any of them, but they had only been baptized in the name of the Lord Jesus.
Acts 10:48
And he commanded them to be baptized in the name of Jesus Christ. Then they asked him to remain for some days.
Acts 19:4-5
And Paul said, "John baptized with the baptism of repentance, telling the people to believe in the one who was to come after him, that is, Jesus." On hearing this, they were baptized in the name of the Lord Jesus.
There is no concept of the unbaptized believer in the Gospel. "Unbaptized" and "believer" are oxymorons!
(List of examples: oxymorons - humorous example here haha... Starting with diet ice cream and ending with unbaptized believer)
In Scripture, the concept of "unbaptized believer" does not exist.
There's often a significant social cost to being baptized in the NT. In the times of old you would be cast out from the Jewish synagogue, your business will be scorned, you could be killed.
Even today, in the underground churches in East Asia, baptism occurs with the understanding that it can and will put your life in danger.
***
Make baptism a priority.
When we go to be baptized, things tend to come up to get in the way. Expect it to happen.... Don't be caught off guard.
***
(Story: the baptism of one of the pastors)
He was baptized when younger, but even then, his life after that didn't reflect Jesus. Despite aiming to become a pastor, he wasn't consistently walking in faith. Now, after years, he's still felt convicted about getting re-baptized. Leading from this, he's going to do this next week!
ENDING NOTE: If we relate to this story - if we were pressured or were just doing it without understanding, then we ought to do it!
Bike ride
I went out on a big long bike ride today, going all the way to MSU and back. I had a couple difficulties: I don't have a headphone jack on my phone so I had to use my half-charged iPhone to listen to music and it died partway through. I stopped at Insomnia Cookies but wasn't paying attention and ordered too much ice cream:
I got a paper bag for it and tried to rush home, but unfortunately the bag developed a hole and I lost the ice cream somewhere on my way home. R.I.P ice cream, I barely knew ye.
I also stopped at the W.J. Beal Botanical Garden at MSU: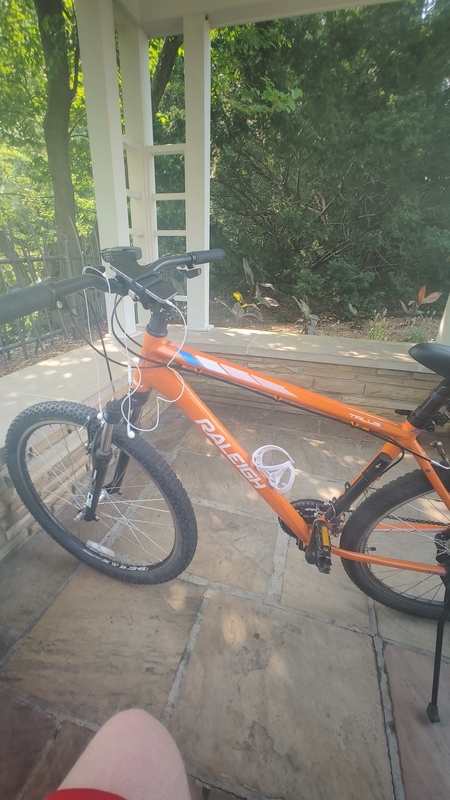 On my way home, I ran into some interesting creatures. Here we have some kind of mouse who seems to be having a peculiar problem:
I also ran into a turtle in the middle of the path. I wrote a little story (in Japanese) about our interaction here on Sudo Haiku:
h.sudo.ne.jpOverall I rode a healthy number of miles and had a decent time.